Every year, we celebrate Happy Friendship Day to honor the unique bond of friendship. Send your friend a heartfelt message or friendship day wish to let them know you care for them. Happy Friendship Day wishes that are the ultimate expression of everything.
Every year, a day dedicated to friends is observed as Friendship Day. India continues to observe International Friendship Day on the first Sunday of August even though the United Nations has designated July 30 as the holiday. It falls on August 7 this year.
Happy Friendship Day Wishes
Friendship Day is observed by exchanging presents, cards, notes, and well wishes. The finest Friendship Day messages, honoring all the different shades of friendship, are shared here.
"Though the depth of friendship is more important than years of friendship but together, we have enjoyed both these parameters to grow into inseparable friends… Happy Friendship Day."
"In some things, aging is the most beautiful thing to happen….. Warm wishes on Friendship Day to my friend who makes this friendship as beautiful, as old as wine."
God has blessed me with wonderful friends like you all, and I will always be grateful for that. Cheers to our friendship!
— Let me thank all of my friends for their unwavering support and affection on this Friendship Day. Enjoy your day, friends!
I consider myself extremely fortunate to have a friend like you who is more than a friend to me; you are my life. Happy Friendship Day!
Happy Friendship Day! You take away all my worries and always have my back. I can't thank God enough for bringing us together. I wish to cherish the bond we share until death parts us.
"A true friend never gets in your way unless you happen to be going down." – Arnold H. Glasgow
"A friend is someone who makes it easy to believe in yourself." – Heidi Wills
"Happiness is meeting old friends and sharing with them the good and bad memories that you have created for life to know how blessed you are."
"Whenever I meet you even after years, it still feels that I met you yesterday because the bond we share is so beautiful."
My closest pals make my life so much more joyful. I'm delighted that all of us have worked so hard to keep this friendship going. Happy Friendship Day.
— I want to thank you for always being there for me when I needed someone to encourage me. Happy Friendship Day!
To a friend who has always been there for me, I thank you for being such a wonderful friend. Happy Friendship Day and always stay as awesome as you are!
When I was small, I used to pray to God to give me the most special friend in this world and when I see you, I know that my prayers have been answered well… Happy Friendship Day.
The only way to have a friend is to be one.  Happy National Best Friend Day!
Friends should be like books, few, but hand-selected.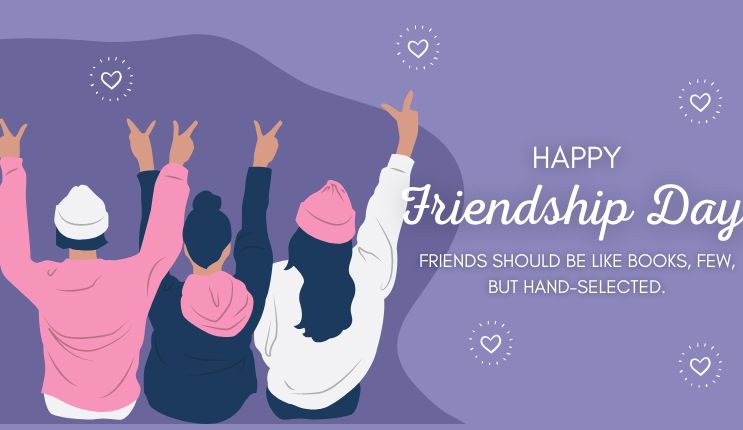 "On this Friendship Day, reconnect with your old friends to bring some happiness in life and to relive the memories from the past."
"Lucky are those who have found a soulmate in their friend. You are much more than a friend to me. You mean a lot. Happy friendship day 2022!"
"No one needs to count material wealth when they have a friend like you. You are the most wonderful friend I could ever wish for. I wish you a very happy friendship day."There is no day when we can thank God enough for blessing us with a best friend, someone who has always been there. Happy Best Friend Day!
"It's hard to find someone who will stay with you in your hard times, someone who will help you rise up again after you fall. Fortunately for me, that person is you! You are a rare gem, my friend!"
"Dear friend, ever since you came into my life, you have filled my life with utter joy and happiness! Happy Friendship Day to you!"
Wish you a very Happy Friendship Day, my best buddy. May God strengthen our bond and continues to fill our lives with happy moments.
A best friend is like a four-leaf clover: hard to find and lucky to have.
If you have crazy friends, you have everything.