Bobby Fischers Quotes: Fischer's fame was not limited to his chess achievements. He was known for his controversial and outspoken nature, which often attracted media attention. Fischer had several notable quotes that reflected his personality and views on chess:
Fischer's playing style was highly aggressive and innovative, and he had an exceptional ability to find brilliant moves and combinations on the chessboard. He had a deep understanding of the game and was known for his exceptional preparation and intense concentration.
Bobby Fischer, born Robert James Fischer on March 9, 1943, in Chicago, Illinois, was an American chess grandmaster and one of the greatest chess players in history. He became the youngest-ever Chess Grandmaster at the age of 15 and achieved numerous accolades throughout his career.
Bobby Fischer's Best Quotes
"I would rather be free in my mind, and be locked up in a prison cell, than to be a coward and not be able to say what I want." ~ Bobby Fischer
"My main interest right now is to expose the Jews. This is a lot bigger than me. They're not just persecuting me. This is not just my struggle, I'm not just doing this for myself… This is life and death for the world. These God-damn Jews have to be stopped. They're a menace to the whole world." ~ Bobby Fischer
"I object to being called a chess genius because I consider myself to be an all around genius who just happens to play chess, which is rather different. A piece of garbage like Kasparov might be called a chess genius, but he's like an idiot savant. Outside of chess he knows nothing." ~ Bobby Fischer
"They're lying bastards. Jews were always lying bastards throughout their history. They're a filthy, dirty, disgusting, vile, criminal people." ~ Bobby Fischer
"It is time to finish off the U.S. once and for all."~ Bobby Fischer
"I don't remember one thing I learned in school."~ Bobby Fischer
"The United States is an illegitimate country, just like Israel. It has no right to exist. That country belongs to the Red man, the American Indian… It's actually a shame to be a so-called American, because everybody living there is a usurper, an invader taking part in this crime, which is to rob the land, rob the country and kill all the American Indians." ~ Bobby Fischer
"Different people feel differently about resigning"~ Bobby Fischer
"Chess is life"~ Bobby Fischer
"Ultimately the white man should leave the United States and the black people should go back to Africa." ~ Bobby Fischer
"The U.S. and Israel have been slaughtering the Palestinians, just slaughtering them, for years. Robbing them and slaughtering them." ~ Bobby Fischer
"I am not today, nor have I ever been a Jew, and as a matter of fact, I am uncircumcised." ~ Bobby Fischer
"America is totally under control of the Jews, you know. I mean, look what they're doing in Yugoslavia…" ~ Bobby Fischer
"The United States is evil. It has to be brought down, it has to be eliminated from the world scene. They are the ones who have made the world the hell that it is." ~ Bobby Fischer
"I don't keep any close friends. I don't keep any secrets. I don't need friends. I just tell everybody everything, that's all." ~ Bobby Fischer
"Psychologically, you have to have confidence in yourself and this confidence should be based on fact." ~ Bobby Fischer
"Most people are sheep, and they need the support of others." ~ Bobby Fischer
"I'm not as soft or as generous a person as I would be if the world hadn't changed me." ~ Bobby Fischer
"I grew up with the concept of freedom of speech. So I'm too old, it's too late for me to adjust to the new world, the new world order." ~ Bobby Fischer
"I really love the dark of the night. It helps me to concentrate." ~ Bobby Fischer
"I hope the Icelandic government grants me political asylum." ~ Bobby Fischer
"The white people should go back to Europe, and the country should be returned to the American Indians. This is the future I would like to see for the so-called United States." ~ Bobby Fischer
"Our mind is all we've got. Not that it won't lead us astray sometimes, but we still have to analyze things out within ourselves." ~ Bobby Fischer
"I consider myself to be a genius who happens to play chess." ~ Bobby Fischer
"I hate ready-made suits, button-down collars, and sports shirts." ~ Bobby Fischer
"Chess and me, it's hard to take them apart. It's like my alter ego." ~ Bobby Fischer
"I don't believe in hero worship." ~ Bobby Fischer
"Genius. It's a word. What does it really mean? If I win I'm a genius. If I don't, I'm not." ~ Bobby Fischer
"I don't believe in psychology." ~ Bobby Fischer
"They asked me what year it was, what month it was, etc. I easily answered these stupid questions." ~ Bobby Fischer
"Maybe I should publish the book. The world is coming to an end anyway!" ~ Bobby Fischer
Bobby Fischer's Best Chess Quotes
"Chess is mental torture."
"When you play Bobby, it is not a question of whether you win or lose. It is a question of whether you survive."
"Chess is war over the board. The object is to crush the opponents mind." ~ Bobby Fischer
"A strong memory, concentration, imagination, and a strong will is required to become a great Chess player" ~ Bobby Fischer
"I could give any woman in the world a piece and a move; to Gaprindashvili even, a knight." ~ Bobby Fischer
"I like the moment when I break a man's ego"~ Bobby Fischer
"Nothing eases suffering like human touch."~ Bobby Fischer
"Chess is a matter of delicate judgment, knowing when to punch and how to duck."~ Bobby Fischer
"I am boring. I am boring!"~ Bobby Fischer
"I studied that first Karpov-Kasparov match for a year and a half before I cracked it, what they were doing, and discovered that it was all prearranged move-by-move. There's no doubt of it in my mind." ~ Bobby Fischer
"I prepare myself well. I know what I can do before I go in. I'm always confident." ~ Bobby Fischer
"Don't even mention losing to me. I can't stand to think of it" ~ Bobby Fischer
"You can only get good at Chess if you love the game" ~ Bobby Fischer
"Most people are sheep, and they need the support of others." ~ Bobby Fischer
"Every chess game is like taking a five-hour final exam." ~ Bobby Fischer
"You are never too old to play chess!" ~ Bobby Fischer
"All I want to do, ever, is play chess." ~ Bobby Fischer
"Your body has to be in top condition. Your Chess deteriorates as your body does. You can't separate body from mind" ~ Bobby Fischer
"I like to see 'em squirm."
"Blitz chess kills your ideas." ~ Bobby Fischer
"I play honestly and I play to win. If I lose, I take my medicine." ~ Bobby Fischer
"Morphy was probably the greatest genius of them all" ~ Bobby Fischer
"That's what Chess is all about. One day you give your opponent a lesson, the next day he gives you one" ~ Bobby Fischer
"There are tough players and nice guys, and I'm a tough player" ~ Bobby Fischer
"If you don't win, it's not a great tragedy – the worst that happens is that you lose a game." ~ Bobby Fischer
"There's no luck involved in chess. You just have to work at it." ~ Bobby Fischer
"I think it's almost definite that the game is a draw theoretically." ~ Bobby Fischer
"I am the best player in the world, and I am here to prove it." ~ Bobby Fischer
"There's no one alive I can't beat." ~ Bobby Fischer
"In my opinion, the King's Gambit is busted. It loses by force." ~ Bobby Fischer
"You have to have the fighting spirit. You have to force moves and take chances" ~ Bobby Fischer
"My opponents make good moves too. Sometimes I don't take these things into consideration" ~ Bobby Fischer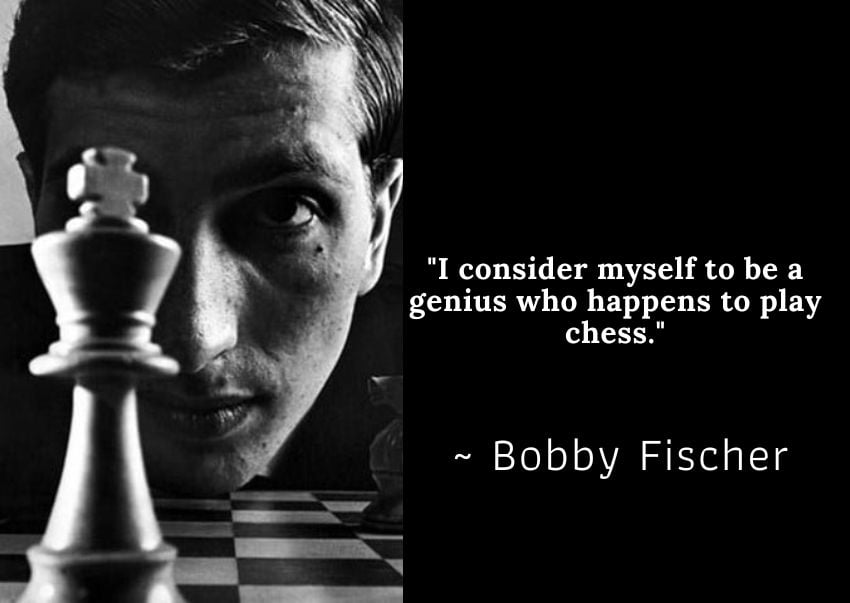 "I felt that chess… is a science in the form of a game… I consider myself a scientist. I wanted to be treated like a scientist." ~ Bobby Fischer
"I add status to any tournament I attend." ~ Bobby Fischer
"I consider myself to be a genius who happens to play chess." ~ Bobby Fischer
"Chess is like war on a board" ~ Bobby Fischer
"I'm not afraid of Spassky. The world knows I'm the best. You don't need a match to prove it." ~ Bobby Fischer
"When I win, I'll put my title on the line every year, maybe even twice. I'll give players a chance to beat me." ~ Bobby Fischer
"I don't care! I don't have to show anybody my games just because they're a big shot!" ~ Bobby Fischer