Your best accessory is a smile, so it's always a good idea to read some smile quotes, whether they're inspiring ones that will make you happy or ones that will urge you to smile. These uplifting quotes can make you smile and quickly forget about your worries.
Throughout this post, you'll find cheerful smile quotes that will make you smile and encourage you not to be sad. There are also little trigger words to keep smiling at all times.
Smile Quotes
"Life is short. Smile while you still have teeth." — Unknown
"There is fear when frowning. There is love when smiling." —Maxime Lagacé
Be the reason someone smiles today."
"Nothing you wear is more important than your smile."
"Who knows her smile has known a perfect thing."
 "Always wear a smile, because your smile is a reason for many others to smile!" ― A.A. Milne"Be your own reason to smile." — Unknown
Smiling is a universal language. And since smiling is contagious, it doesn't matter what language people speak.
Smiling can lead to work promotions.
"Don't cry because it's over, smile because it happened."– Dr. Seuss
"I love those who can smile in trouble."– Leonardo da Vinci
"A smile makes you a master of yourself." ― Thich Nhat Hanh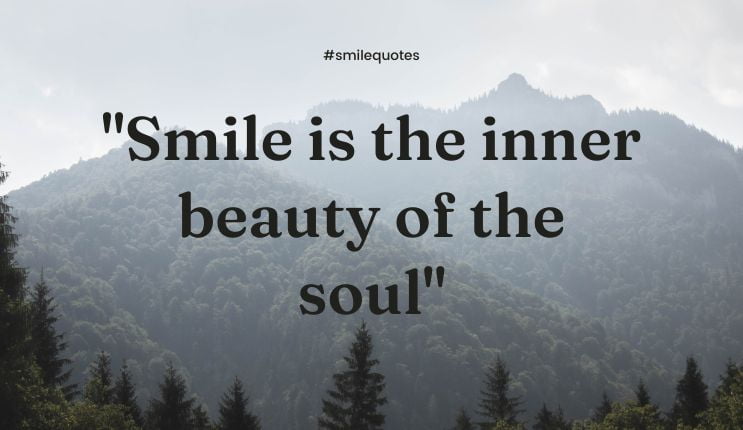 "Smile is the inner beauty of the soul." ― Lailah Gifty Akita
Before you put on a frown, make absolutely sure there are no smiles available." — Jim Beggs
Smile at strangers and you just might change a life.¨- Steve Maraboli
"Keep a smile on your face and let your personality be your autograph."
"I continued, as was my wont, to smile in his face, and he did not perceive that my smile now was at the thought of his immolation."
"Soul smiles through the lips of a happy face" ― Munia Khan
"A smile will go the mile, while a frown will take you down." ― Anthony Liccione
"Learn to smile at every situation. See it as an opportunity to prove your strength and ability."– Joe Brown
"When I wake up, I smile because I'm alive and ready to succeed" – Raul Perez
"A smile is the best way to get away with trouble even if it's a fake one." – Masashi Kishimoto
"Smiling is the best way to face every problem, to crush every fear and to hide every pain."
"I smiled,—for what had I to fear?"